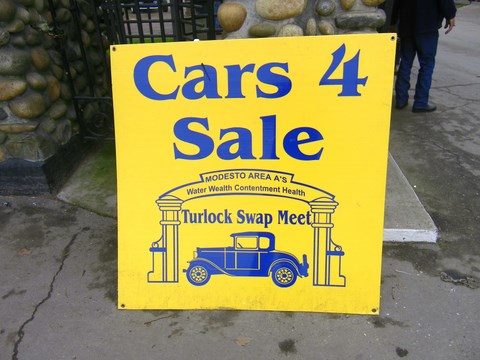 It was time again for the Modesto A's famous Turlock Swap Meet at the Stanislaus County Fairgrounds. My son Ryan and I got up early on a foggy Saturday morning, a little over a week ago, and headed to Turlock. It had been over 10 years since I last attended. We stopped in Ripon at the Flying J truck stop to pick up my brother Dan Newey. He parked his 10 car auto transport truck and we proceded to Turlock. As we took the Fulkerth exit, I remembered the first time I went to Turlock. There were no shopping centers on Fulkerth, just fields and people were parked everywhere and walking towards the fairgrounds. We then followed the signs to the designated parking lot which was of course, already full. We turned right on Golden State Blvd. and finally found an open spot in a residential area about 3 blocks from the front gate. Not too bad!
Our first goal was to find my other brother, Rich, and our friend Brad. Rich brought his 1970 Chevy Monte Carlo and Brad brought his 66 Ford Bronco to sell. Rich had tried to sell his Monte Carlo at Hot August Nights and at the Good Guys show in Pleasanton but by noon the first day in Turlock, it was sold. Ryan, Dan and I took off to look at all the cars and to check out the swap area. I couldn't believe how crowded it was. It was a cold, foggy morning and there were people everywhere. The rows between the swap spaces were packed with people as were the lines for food. They were selling "bricks" of curly fries so Ryan had to go investigate.
You can see pictures of a lot of the cool cars we saw in our photo gallery but here are a few of our favorites:
It was cold, but it was a good day, lots of cars, lots of parts, and good food. Maybe we'll see you in Turlock next year!
To be ready for next year, check out their website: http://www.turlockswapmeet.com/.