Cars and Coffee – Auburn Blvd Cruise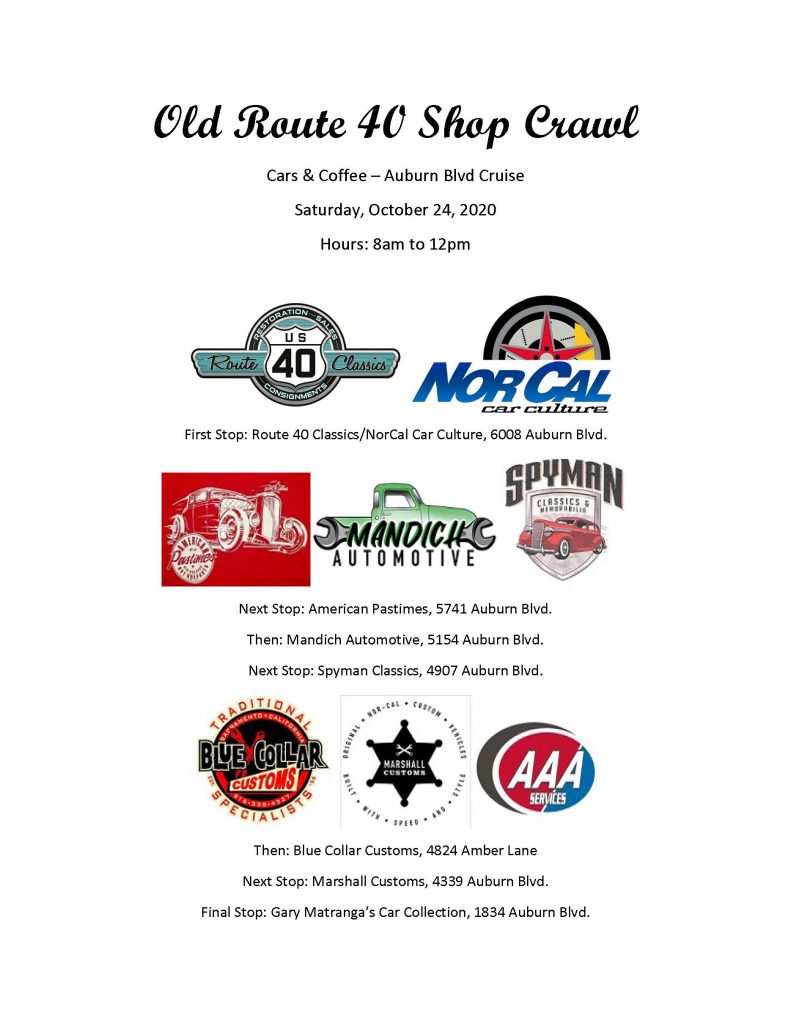 The Old Route 40 Shop Crawl is a car cruise and cars and coffee event that stops at 7 great Hot Rod Shops along Route 40/ Auburn Blvd.
Meet up at Route 40 Classics/NorCal Car Culture, 6008 Auburn Blvd around 8 am. Rich has great classic cars for sale.
Stop by American Pastimes 5741 Auburn Blvd Ron has the best hot rod parts.
Next stop at Mandish Automotive 5154 Auburn Blvd. Travis offers great Classic car service and repair.
Spyman Classics 4907 Auburn Blvd For Cars and coffees 9.30 to 10.30 Franks man cave store.
Blue Collar Customs is across the street from Spyman on 4824 Amber lane. Stop by to see Scott's shop that builds custom cars and trucks.
Marshall Customs is at 4339 Auburn Blvd. Jeff and his crew are building cool vintage truck cars and repair too.
The last stop is a bit of a drive on Auburn Blvd to 1834 Auburn Blvd To see Gary Matrangas car Collection at AAA crane. Gary will have drinks and snacks on hand for his shop tour.
For more information:
Ron and Ted American Pastimes 916-944-6600
Frank at Spyman Classics  916-804-4943
Route 40 Classics Rich 916-750-4321
Tim at NorCal Car Culture: 916-308-6730