Upcoming Events in Northern California
Including: Car Shows, Swap Meets, Motorcycle Events & Races
May 1-2 – McFarland: The American Tri-Five Association's Western Invasion is Friday, May 1st and Saturday, May 2nd at Famoso Raceway, 33559 Famoso Road.
May 9 – Atwater: The Pharoahs and Modesto Throttlers Castle Air Museum Car Show is Saturday, May 9th.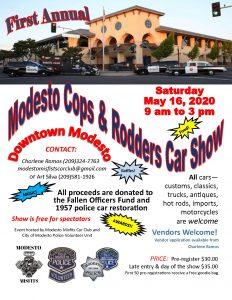 May 16 – Modesto: The First Annual Modesto Cops & Rodders Car Show is Saturday, May 16th from 9am to 3pm in Downtown Modesto.
May 30 – El Dorado Hills: The 1st Annual Caliber Collision Car Show & Food Drive is Saturday, May 30th
If would like to add a show or event to our calendar please email the information to: tnewey@norcalcarculture.com