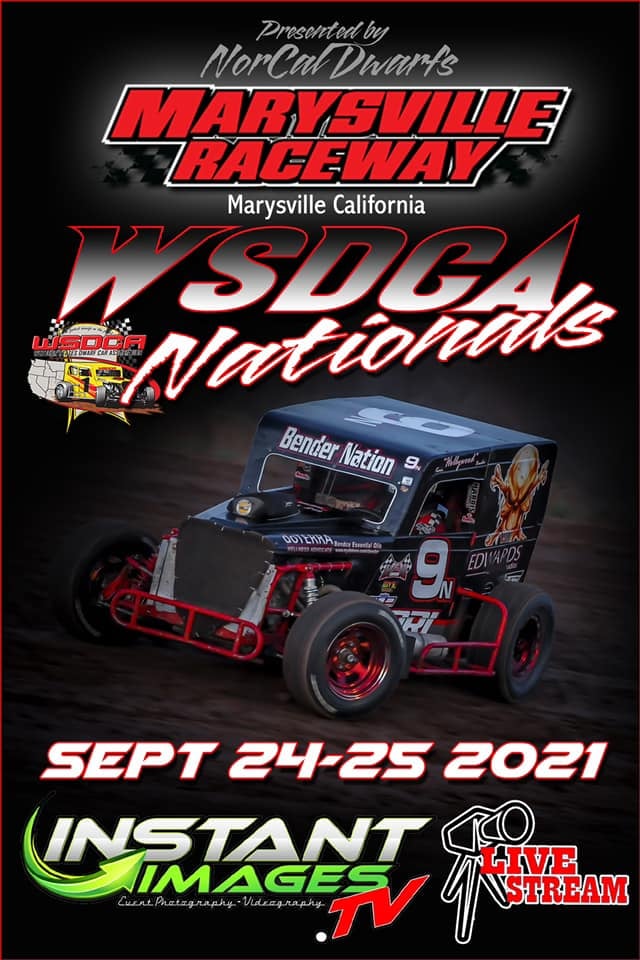 Western States Dwarf Car Association Nationals
The Nor-Cal Dwarf Car Association presents the 26th Western States Dwarf Car Association Nationals at Marysville Raceway this weekend on September 24th & 25th. Traditionally, nearly 100 competitors are broken up amongst the three tiers depending on things like skill level or age. The three different divisions are Pro, Veteran, and Sportsmen. Each division will have heat races and main events during both nights of competition.
On Thursday night, September 23rd, there will be free practice from 6pm – 9pm for the drivers, followed by dinner, cornhole tournament, and live music. This is sponsored by Dark Heart Brewery. Numerous sponsors for the weekend are listed on the poster included in the release.
Part of the allure to this event is the on-track racing with the best of the best converging at the Action Track of the West Coast for two nights of racing. Yet, much of the excitement is tied to the pre- and post-race activities held in the pit area. The NCDCA hosts an amazing all-around event that encompasses something to do for everyone involved.
If you cannot be there in person, the next best thing is to buy the pay per view at
https://instantimages.tv/videos/16520
Front grandstand gate will open at 5 PM. Cars will hit the action-packed quarter-mile oval dirt track around 4:30 PM for wheel pack.
Tickets can be purchased at the front gate. Adults are $15.00, juniors and seniors $13.00. Kids ranging from 6-11 are $6.00. Children 5 and under are free. Fans can also buy their tickets online by visiting our website
www.marysvilleraceway.com.
Please be advised, there is a $2.00 fee associated with each purchase on-line.