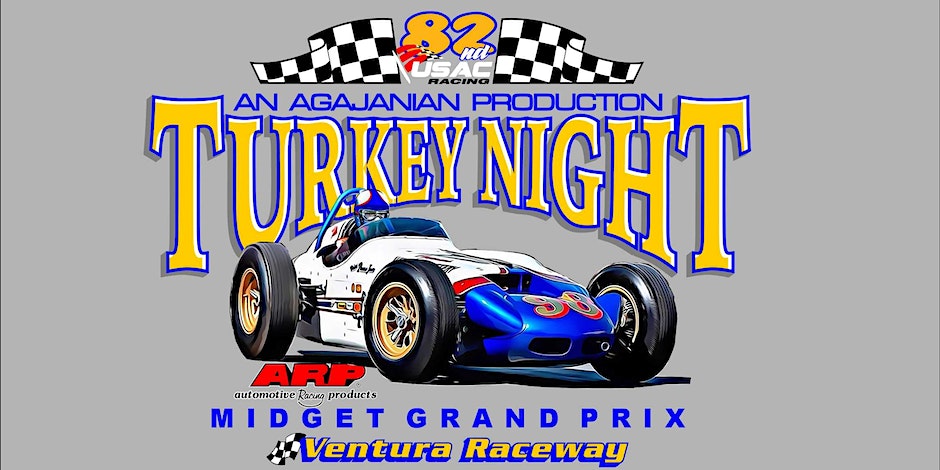 Turkey Night Midget Grand Prix
The Turkey Night Midget Grand Prix is Friday and Saturday at 3pm at Ventura Raceway, 10 West Harbor Boulevard.
The 82nd Annual Turkey Night Grand Prix is one of the most talked about events in the USAC Midget racing industry. Held at Ventura Raceway, the best little dirt track in America, which just happens to be right on the beach, this venue is spectacular for the prestigious 98 lap main event. For even more comfortable view, our grandstand seats have a back rest, so you can stay all night and enjoy. Weather is always unknown as we are located right on the beach. Be prepared for anything, wear layers!
On Friday, November 24th, the Midgets practice all during the evening while the USAC 360 Sprint Cars run their hot laps, qualifying, heat races and a special main event for an additional purse. Some of the drivers in that main event gain a "seat" in the A Main the following night, Turkey Night.
On Saturday, November 25th, some of our double duty drivers are now really put to the test! The schedule calls for Sprints to continue their program of Semi Mains and the A Main event, while Midgets run through their entire program.
You do not want to miss this! NASCAR drivers, such as Christopher Bell (2017 & 2018 winner), Kyle Larson (2016 & 2019 winner) will compete, with most of the USAC top drivers in the nation.