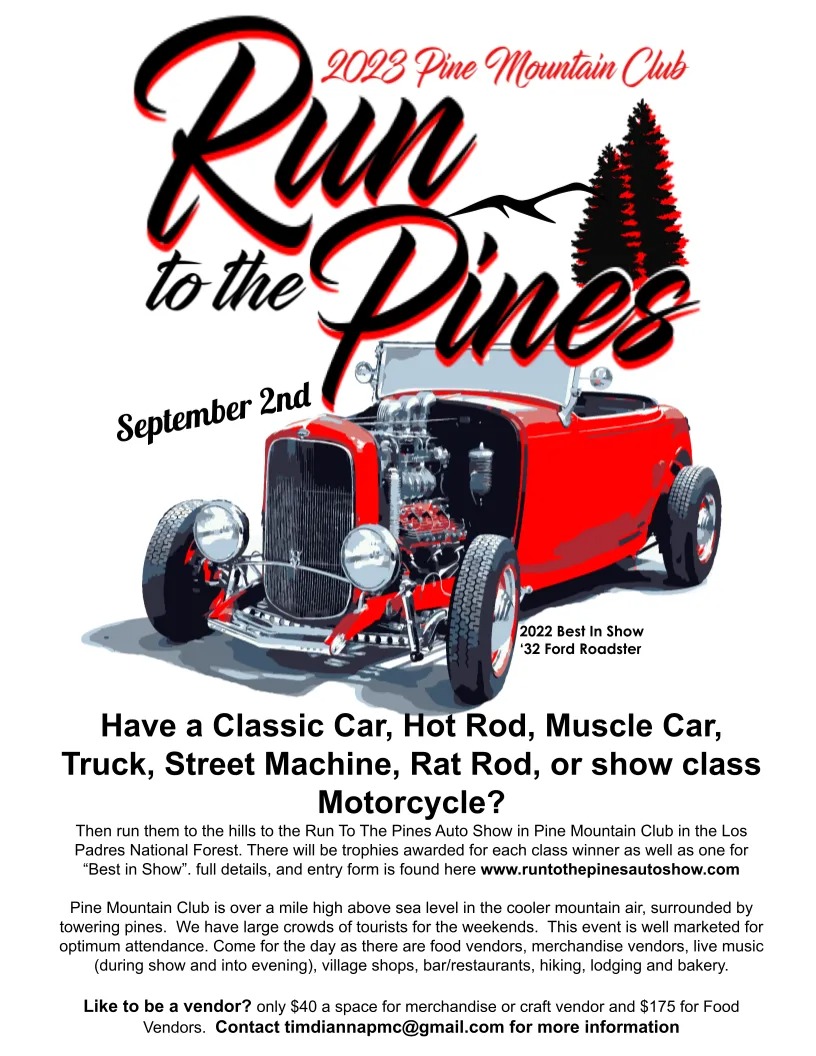 Run to the Pines Auto Show
The 2023 Run to the Pines Auto Show is Saturday at 9am at Pine Mountain Village Center on Pine Valley Lane.
The Run to the Pines Auto Show is held in Pine Mountain Club, California. The event is held every year in the Pine Mountain Village Center. It is located in a picturesque area surrounded with pine trees, unique shops, a general store, gas station, hotels, and restaurants. The area is roughly 5500 feet in elevation with a community surrounding the Village Center that has homes as high as 6500 feet. The township is called Pine Mountain Club, a private community of about 2000 residents, without a single stoplight. The mountain valley lies between two mountain ranges, with peaks soaring well above 8,000 feet on the south side. Just 20 miles west of Interstate 5, Pine Mountain Club is also about 20 miles south-east of Highway 166, making the winding two-lane highway through it a very popular choice for a day cruise almost year round. Because of the altitude, the weather even in late summer and early fall can be very mild compared to the valleys below. Remember, this is the mountains; if you linger into the evening after the Show is over, it can cool off quickly once the sun goes down. But chances are, blue skies, a few clouds, and crisp pine-scented air will make for a most-enjoyable day! Our show allows the entry of not only classic cars and trucks, but motorcycles and sometimes unique vehicles!