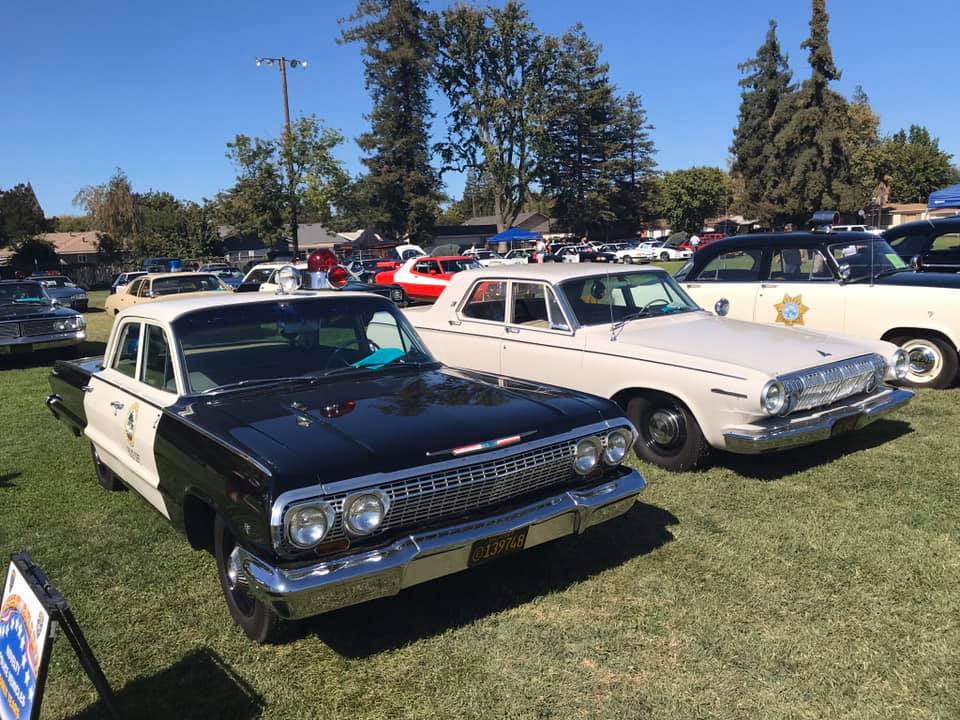 Ripon Police & Menlo Park Police Emergency Vehicle Show
Ripon Police and Menlo Park Police
Present the 30th Annual
Emergency Vehicle Display Show & Law Enforcement Recruitment Fair
Saturday, October 2, 2021, 8 a.m. to 3 p.m.
Ripon Community Center & Park 334 West Fourth Street Ripon, California 95366
This is our 30th Anniversary show. This year's show is dedicated to all of the first responders and medical personnel, along with all of the essential workers who continue to make sacrifices to support the Covid-19 pandemic. Thank you all for your service.
The show is a pro public safety family event. You'll see emergency vehicles of all types including police, fire, ambulance and military. All proceeds will be donated to the Ripon Police Volunteers and Explorers, the Menlo Park Police Cadet Unit and the C.H.P. Historical Museum. Spectators are free.
Congratulations to our 2019 Best of Show winner, retired U.S. Marshal Michael Del Puppo with his 2002 Chevrolet Camaro, California Highway Patrol.
Vehicle Entry – Public agency vehicles are FREE, privately owned vehicles are $40.00 for pre-registration, $45.00 for day of show. This show is open to any current or vintage vehicle including police, CHP, police Camaros/Mustangs, public relations/CSO/volunteer vehicles, K9 units, mobile command, SWAT, motorcycles, fire trucks, ambulances, hearses, security and any military vehicles. Unmarked former police and similar plain vehicles are also welcome. We do not encourage or condone the equipping and marking of 2001 model year or newer privately owned police vehicles however, we may make an exception on a case by case basis. The police package Camaro's are exempt from this. Contact us for more information.
All vehicles entering the show must arrive by 09:30 hours.
Recruitment Booth – Any public or private agency is welcome to set up a recruitment booth, but a marked display vehicle is also required. Public agencies are free, business agencies are $50.00.
Swap Meet –Spaces are available, all items must be hobby related only. Cost is $50.00 per space.
Cruise, Parade and other Information – On Friday 10/1 at 6 p.m. there will be a cruise escorted by Ripon Police starting from the Ripon Community Center. Any vehicle registered for the show is welcome. At 1:00 p.m. on Saturday, there will be a slow speed "code 3" parade consisting of vehicles registered in the show. The Ripon Police Dept is in charge of the cruise and the parade.
We thank the Ripon Police Dept, the Ripon Police Volunteers, the Menlo Park Police Dept, the Menlo Park Police Officer's Association, Walnut Creek Police Reserve Captain Chris Flath and the Walnut Creek Reserve Police Officer's Association, retired Menlo Park Police Chief Bruce Cumming, Retired U.S. Marshal Mike Del Puppo, Mr. Chris Hagen, Mr. Roberto Sepulveda, Mr. Ernie Zebal and many other individuals who sponsor our event. We also recognize and thank our many volunteers. Thank you for supporting our non-profit event.
For further information or a entry form, please contact the Event Coordinator Darryl M. Lindsay via 650-743-4486 or email; inpursuitmppd@yahoo.com, visit our Facebook page under the show title, or see our website at www.riponmenloparkpolicecarshow.com Thank you again for your support.