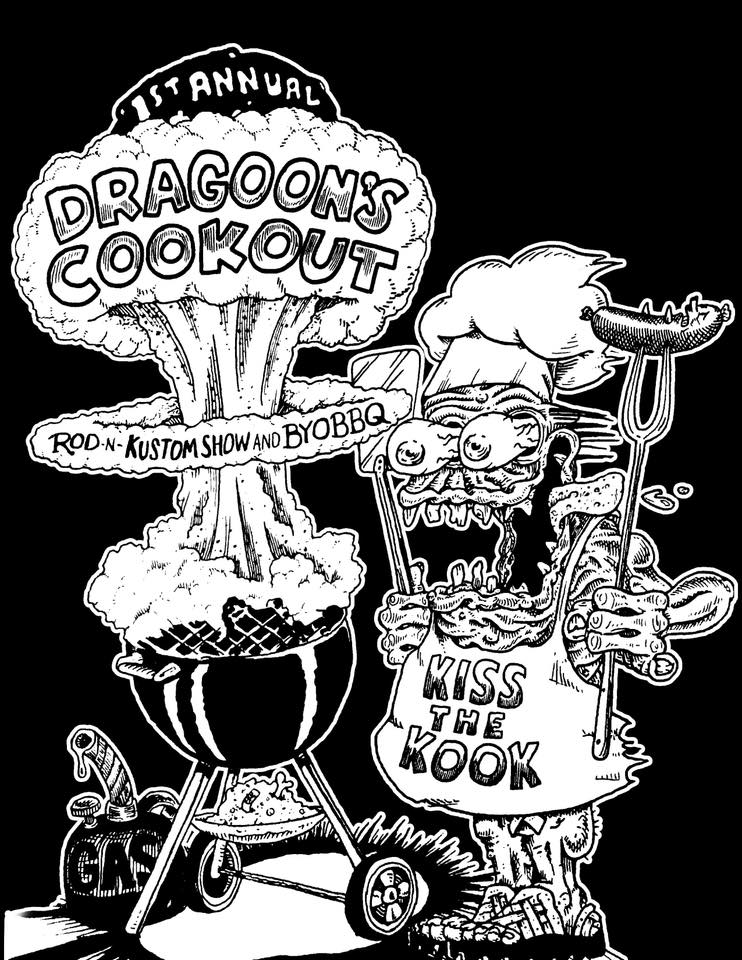 Dragoons Cookout
The Dragoons 1st Annual Cookout is Saturday from 10am to 5pm at the Contra Costa Fairgrounds, 1201 West 10th Street.
1ST ANNUAL DRAGOONS COOKOUT September 16th at the contra costa co. fairgrounds ANTIOCH! 10am-5pm
.
'64 and earlier american made traditional hot rods, kustoms, and early styled lowriders only! NO CAMAROS/MUSTANGS/BULLSHIT/VISIBLE BILLET ANYTHING
.
LIVE MUSIC ALL DAY by THE BOARS, SHELBY COBRA AND THE MUSTANGS, THE PENDLETONS, THE KILLPOETS, TH' LOSIN' STREAKS, STIGMA 13 and dj quitter dan
.
PINSTRIPER PANEL JAM EXTRAVAGANZA!
.
PIN UP ARM WRESTLING COMPETITION!
.
BBQ: WE ENCOURAGE EVERYONE TO BRING THEIR OWN FOOD TO COOK BESIDE OLD FRIENDS AND NEW! THE DRAGOONS WILL SUPPLY OUR GIANT BBQ GRILLE FOR ALL TO USE, AS WELL AS SUPPLYING CHARCOAL, PLATES, NAPKINS, CONDIMENTS, (and side dishes while they last)
we will have a few food vendors on site as well.
.
ONE OF A KIND TROPHYS!
.
all for a lousy $20 PER CAR LOAD!
$5 walk in's
BRING YER WEENIES! SEE YOU IN SEPTEMBER!