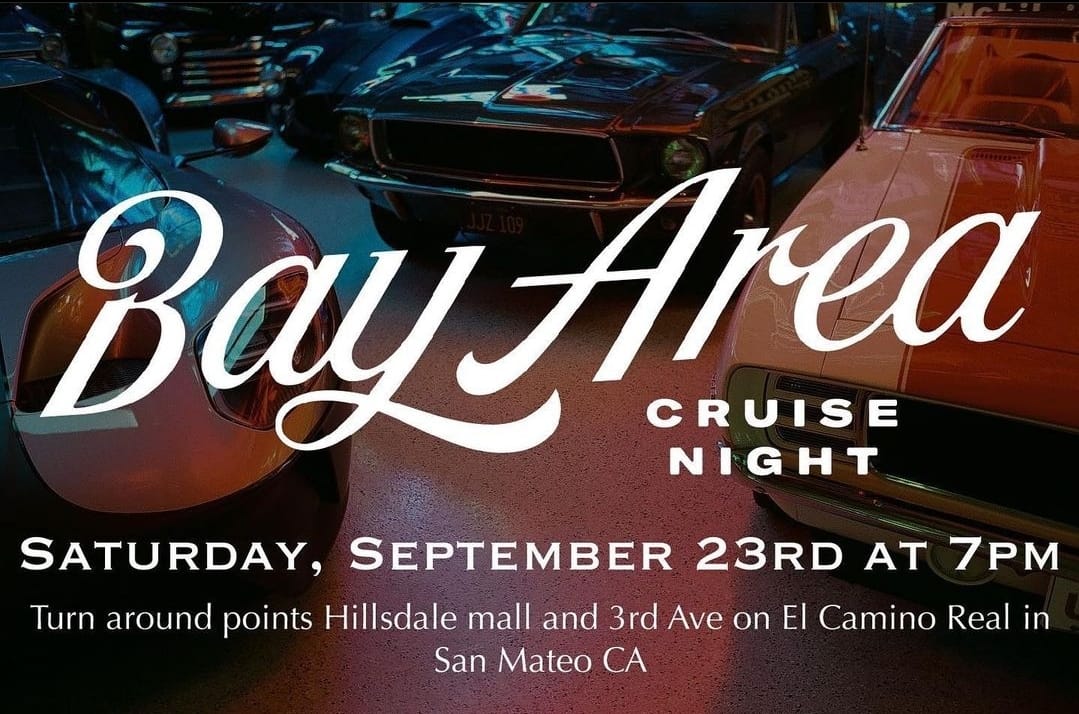 Bay Area Cruise Night
The Bay Area Cruise Night is Saturday at 7pm on a two mile stretch of El Camino Real from Hillsdale Mall to 3rd Avenue.
The largest cruise night, with 4,000 cars estimated in attendance according to SMPD last year is once again taking place SATURDAY SEPTEMBER 23rd starting at 7pm. Please join us as we cruise up and down El Camino Real from Hillsdale Mall to 3rd Ave in San Mateo as done back in the day.
THERE IS NO PRE MEET CAR SHOW that is being organized by BACN. This is purely a cruise. And when we say cruise, we mean a CRUISE! This is not a car show, so PLEASE, do what cars are meant to do and drive!
CRUISE ROUTE:
Turn around points are Hillsdale Mall in San Mateo on El Camino and 3rd Ave. This is a two mile stretch of El Camino. We encourage everyone to cruise the streets from end to end to minimize traffic before turning around and returning the other way. Cars look best in motion so let's cruise! But remember this is a CRUISE! Not a drag race, not a sideshow or a parking lot rev off. Anything that may cause us to be shut down PLEASE DO NOT DO. We are very fortunate to have a great relationship with SMPD and the SMCS. With their help we have been able to grow our cruise to the largest there has been in decades. We thank them for their continued support over the last 8 years! SMPD and SMCS WILL BE IN ATTENDANCE.
SUPPORT LOCAL BUSINESS:
If you stop off in any parking lot or on the side of the road. Please do your part in supporting local business. It's with their help as well that we also can do what we do. Down below are businesses that are welcoming to BACN cruisers and encourage parking in their lots etc. Please feel free to stop by and support and tell them you're apart of the cruise. List will be updated frequently. If you have a business located on the cruise route and would like to be added to the list please contact us directly.
LASTLY:
Be safe, and make sure to HAVE FUN. See you all SEPTEMBER 23rd the largest cruise the Bay Area has ever seen. Any question please ask through direct message or in the comments.
BACN is not responsible for any or all damages that may occur night of event to either cars or persons. Thank you for your support!