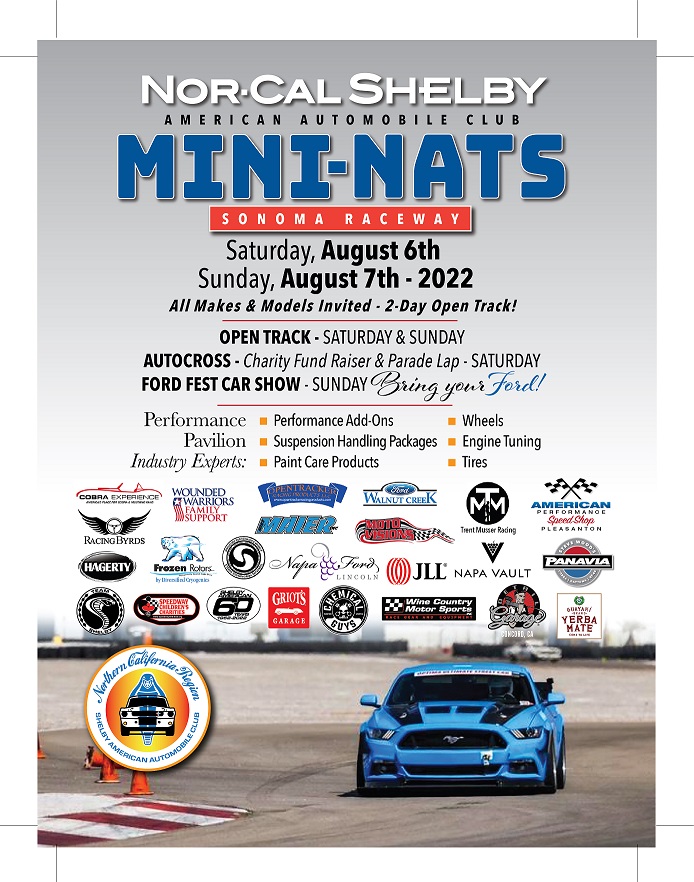 NorCal Shelby Mini Nats
The 35th NorCal Shelby Mini Nats is Saturday and Sunday at Sonoma Raceway, 29355 Arnold Drive.
Come join us for a fun-filled Track Weekend at the Sonoma Raceway!
Track Time! Vendors! AutoCross! FordFest Car Show! Banquet!
Don't miss out on the action.
We are getting close to the biggest event of the year!
NorCal Shelby Club 35th Annual Mini Nationals at Sonoma Raceway!
Are you ready! we certainly hope so , something for everyone that's for sure.
open track, autocross, Childrens Speedway Charity run, "Team Shelby Sonoma Cruz" plus our Turn 11 Banquet Saturday night!
And Sunday! "Ford Fest" , Come see early 1900's Fords to the newest Ford GT's, Mach E , Falcons, GT350's, GT 500 Heritage Edition, Panteras, Cobras And some of the coolest Shelby's on the planet Celebrating 60 years of Shelby American!