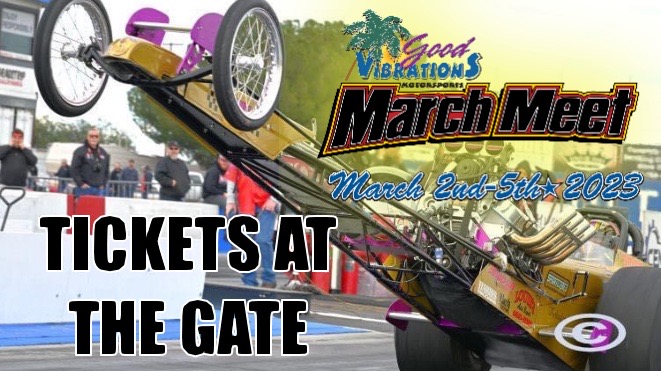 Good Vibrations Motorsports March Meet
The Good Vibrations Motorsports March Meet is Thursday to Sunday at Famoso Dragstrip, 33559 Famoso Road in McFarland.
CALLING ALL CARS FOR THE CAR SHOW!
The Good Vibrations March Meet has a FREE car show for all 73 & Older cars. Bring your street rod or your hot rod to this year's March Meet! Simply drive up to the Car Show Entry just inside Gate 1 of the track to enter. All drivers and occupants of each vehicle must purchase an admission ticket, but the car show is free. Park your car in the Famoso Grove located behind the main grandstands along the quarter mile. All cars will be judged on Saturday, you can also receive a goody bag while supplies last and you might get a show award. Get your club and your friends together and come on out! Gates open at 7am each morning. Tickets can be purchased at the Car Show Gate. You can buy a 4 day event ticket for $125 or a single day ticket for $40.