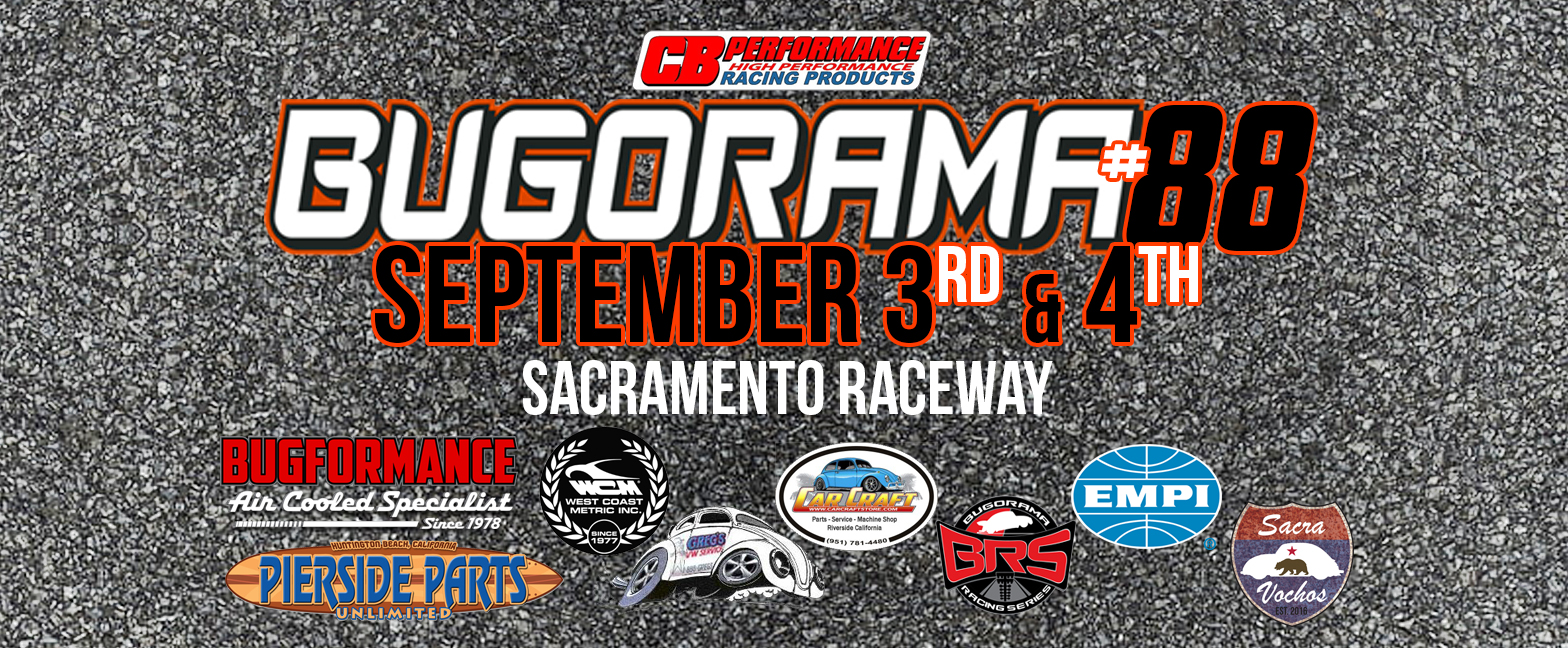 Bugorama #88
The Bugorama #88 Drag Races and Car Show are Saturday and Sunday at Sacramento Raceway, 5305 Excelsior Road.
GENERAL INFORMATION
The Sacramento Bugorama is like no other VW event in the world. We open the gates on Saturday at 11:00am to allow for overnight camping, swap meet set-up and test & tune for drag racers. Sunday is the main day of the Bugorama. This is when we have the car show, finals in drag racing. Vendors and all the swap meet will be set-up.
ADMISSION
Two Day Pass:
Saturday – Sunday $25
Sunday Only $20
Kids 13-17 years old $5
Kids under 12 Free
Car show display * $20
Swap meet space (15×15) * $50
Pit parking (non VW) $20
Camping per car (admission not included) $20
Kids 13-17 years old (Sunday Only) $5
RACING:
Trophy Class* $50
Sportsman Eliminator* (13 seconds and slower) $60
Pro Eliminator* (12.99 and Quicker) $60
BRS Classes – Top Eliminator, Pro Mod,
Super Street, Pro Gas, Super Combo,
Pro Turbo $80
* INCLUDES DRIVER ADMISSION *
SCHEDULE FOR SATURDAY MAY 28TH:
11:00am Gates Open
3:00-4:00pm Test & Tune Racing
4:45pm 1st Round of Race Qualifying
8:30pm Gates Close
SCHEDULE FOR SUNDAY MAY 29TH:
7:00am Gates Open For Admission
7:00-9:00am Swap Meet and Vendor Set-Up
9:00am-12:00pm Drag Racing Begin
12:00-12:30pm Lunch Break
12:30pm Drag Racing Eliminations Begin
2:30pm Drag Racing Awards Presentation
CAMPING INFORMATION:
Overnight camping is allowed at the Bugorama on Saturday night starting at 11:00am to 8:30pm. When you are racing you can camp in your pit area. When you are swapping you can camp in your own swap meet space. We have a designated area for regular camping. This area is dry camping with no hook ups. Reservation s are not needed. Camping is first come, first serve. Please be respectful and follow our basic camping rules: No camps fires, fireworks or loud music. Camping is $20.00 per vehicles plus admission.
SWAP MEET:
The swap meet spaces are for individuals selling used VW parts only. No new parts vendors or new parts sales allowed in the swap meet area. Spaces are 15′ X 15′ which include one admission and one vehicle pass.
CAMPING AND SWAP MEET RULES:
1. No camp fires
2. One car per space
3. No fireworks
4. No loud music
5. No alcohol
6. Used automotive related items only
7. No food or drink sales
DRAG RACING:
The Bugorama offers race classes for all type of cars and drivers from the novice to the pro. All cars must pass NHRA safety inspection and or BRS tech inspection at the scales to qualify to race. Here is a list of our race classes that we oer or for more race class information log on to our website –
www.bugoramaracingseries.com
Eliminator (13.00 seconds and slower) Pro Eliminator (12.99 seconds and quicker) BRS classes – Top Eliminator, Pro Mod, Super Street, Pro Gas, Super Combo, Pro Turbo.
DRAG RACING SCHEDULE
Saturday:
11:00am GATES OPEN
1:00pm TECH INSPECTION STARTS
3:00pm – 4:00pm TEST & TUNE
4:30pm DRIVERS MEETING BASE OF TOWER
4:45pm 1st ROUND OF QUALIFYING
8:30pm GATES CLOSE
Sunday:
7:00am GATES OPEN
8:00am TECH INSPECTION OPENS
10:00am 2nd ROUND OF QUALIFYING
12:00-12:30pm LUNCH
ELIMINATIONS:
1ST ROUND 12:30pm
2ND ROUND 1:30pm
3RD ROUND 2:15pm
4TH ROUND3:00pm
ALL FINALS Times are approximate 3:30pm